Ashley Ross - Undergraduate with Year in Enterprise
Date
identiTee, a gender-neutral clothing brand founded by student Ashley Ross, offers a variety of clothing and accessories for "anyone and everyone". The clothing company takes on an eco-friendly approach towards fashion, whilst aiming to promote inclusion and combat bullying behaviour; particularly surrounding minority groups. In her final year, Ashley has grown the company into a huge success; all with the help of CEES and our Spark team.
Choosing LUBS
Ashley chose to study a BSc in International Business and Marketing in order to learn about businesses and growth on an international level; with the opportunity to learn about different cultures, backgrounds and experiences. 'I chose Leeds University Business School due to its strong reputation,' says Ashley. 'The school itself is recognised worldwide and has good rankings, great networking opportunities and offered the chance of a scholarship. The city of Leeds appealed to me too: I'm from a quiet town in Essex with little diversity. I wanted to come to a large city that offered something different.'
Year in Enterprise *
* 'The Year In Enterprise' is not currently offered at Leeds.  If you would like to start your own business, all current Enterprise Opportunities can be found on the Spark Website.
In her second year, Ashley applied for a Year in Enterprise. Creating a company from scratch, she put together a business plan. She then pitched her plan to a panel of five people, who followed-up with fifteen minutes of questions. 'I really needed to know my stuff!' says Ashley. 'But I knew the Year in Enterprise would give me the skills to stand out when applying for graduate schemes. I was thrilled to be one of the four students chosen for the programme.'
With a strong focus on diversity, Ashley had a clear plan for the company she wanted to create. 'I knew unisex clothing was a rising market,' she says. 'But the term 'unisex' isn't as inclusive as it should be as it concerns just two genders. I created identiTee: a gender-neutral clothing company. There's a simple yet strong message: 'Everyone' is written in multi-colours across black or white T-shirts, sweatshirts and caps.'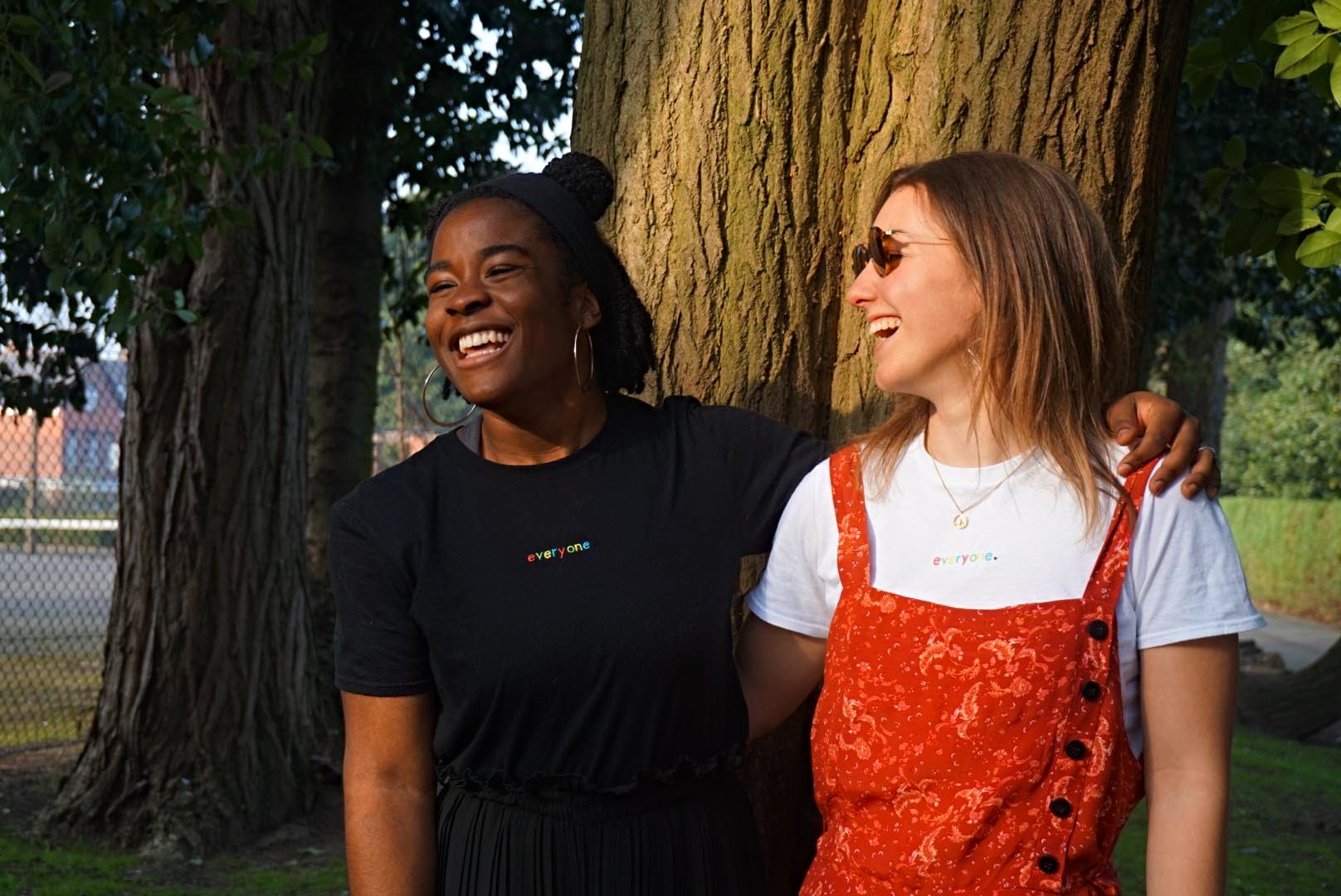 Giving back
For Ashley, the Year in Enterprise had far more than a financial motive to measure her success: it was an opportunity to give back and support the people of Leeds. 'I gave some profits to minority communities, namely BAME and LGBT groups, and found related local events to share on social media to bring the communities together,' says Ashley.
'I also did some volunteering work. 'With Angels for Freedom, we patrolled the LGBT quarter of Leeds to ensure a safe, positive space. With Out for Leeds with Age UK, I acted as a facilitator for elderly people discussing LGBT issues in TV, film and through real-life experiences to prevent LGBT people in the elderly community feeling isolated.'
Furthemore, Ashley launched the VOIS project. 'The VOIS project is a chance for the people in our communities to share their experiences of equality and diversity to help others and raise awareness of issues within minority groups such as BAME and LGBTQ+.'
CEES support
Ashley found the support of her tutor at the Centre for Enterprise and Entrepreneurship Studies and their Enterprise Ambassadors invaluable. After connecting with a local business owner through CEES networking sessions, she was given a wealth of advice as well as the opportunity to attend a panel as part of the wider city's Leeds Digital Festival.
'I can't praise CEES enough for the support they've provided during my Year in Enterprise, and beyond,' says Ashley. 'The university-wide Spark programme has also been incredible. I've had advice from a lawyer about my trademark and registering my company officially, an accountant's support with my finances, and a social media specialist showing me how to improve engagement, reach and impressions. If I went to them, or my personal tutor, with a problem, they'd sit down and sort it out with me. The support was exceptional.'
Next steps
Now in her fourth and final year, Ashley has begun to apply for marketing or leadership focused graduate schemes in the Leeds area. 'There are so many global brands with a base in Leeds, so I can bring the international element of my studies into practice as well as the reactive skills I've learnt from my marketing experience,' says Ashley.
She credits a wealth of her experiences at university for shaping her confidence and skills. 'I'm Club Captain of the Rugby Club this year,' adds Ashley. 'I've met so many different people there and developed a great support network that helped me bring identiTee to life. We've such strong values on inclusivity and teamwork, and a real focus on team growth: a success we've realised.'
Ashley has gained skills and theoretical understanding during her studies, with the opportunity to put her knowledge into practice with her Year in Enterprise. 'My time at the University of Leeds as a whole has helped me see improvements in all areas of my life, from internships to rugby training sessions,' says Ashley. 'I feel happy to take leadership roles and make decisions, with growing confidence and strong communication skills. My support network is invaluable, and I have access to a wealth of incredible opportunities.'
To learn more, become involved, check out the brand or to simply keep up-to-date with Ashley and the work she is doing at identiTee, follow @identiteeuk on Twitter and Instagram. Also, feel free to email Ashley for any advice or with any questions at bn16a3r@leeds.ac.uk

* 'The Year In Enterprise' is not currently offered at Leeds.  If you would like to start your own business, all current Enterprise Opportunities can be found on the Spark Website.